Today I'm showing you How To Peel A Banana. You might be thinking, well I already know how to peel a banana? Well I'm going to show you 10 different ways that you've never seen before.
We might not be able to get any variety when it comes to the taste of bananas, but you can always get some variety when it comes to peeling a banana! Impress your friends with these impressive 10 ways to peel a banana.
How To Peel A Banana (10 Ways)
1. Standard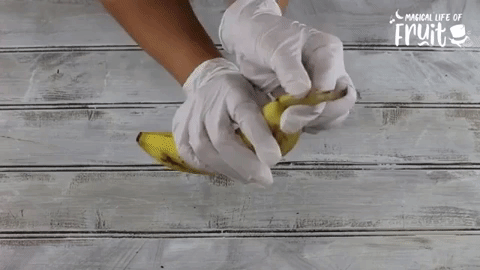 Hold one hand close to the stem, while the other hand pulls back the stem until it breaks. The riper the banana, the easier it is to peel this way.
2. Banana Share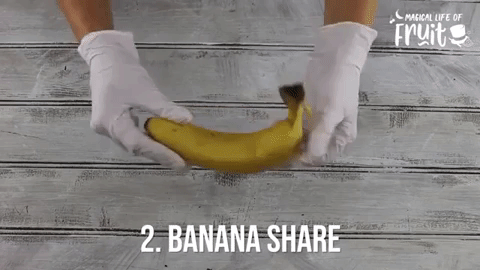 This is great for kids who don't want to eat a whole banana. Just put both of your hands into the middle of the banana and snap it in half.
3. Monkey Magic
Monkeys are very clever when it comes to holding a banana. They give themselves the stem to hold the banana. Simply squeeze the end of the banana until it splits, then peel it from the bottom.
---
** Please note that this post may contain affiliate links which means that I can receive a small payment if you make a purchase through my links.
---
4. Twist and Peel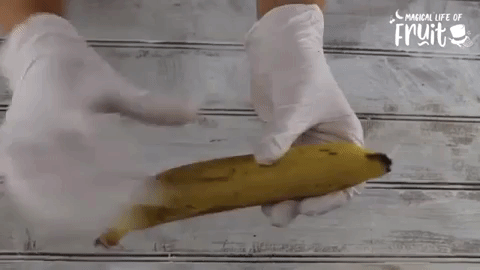 Grasp the banana in the centre. Twist your fingers in different directions. The skin will snap open and you can peel the banana from the middle.
5. Gravity Peel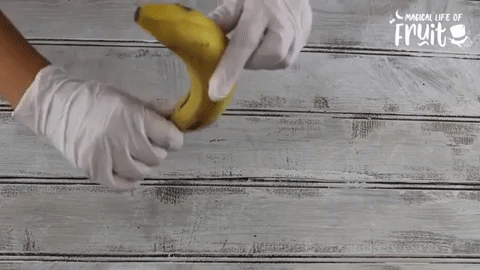 Hold the stem with the banana upside down and throw it away from you. It will snap the stem and start peeling the banana
6. Chef's Chop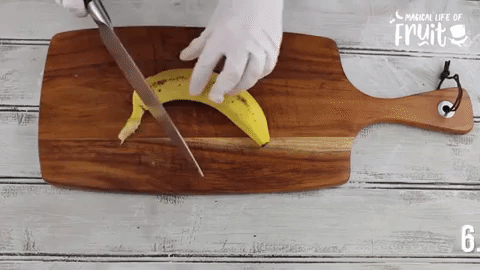 Use a sharp knife to cut off both ends of the banana, slice lengthways down the banana peel.
7. Baby Fingers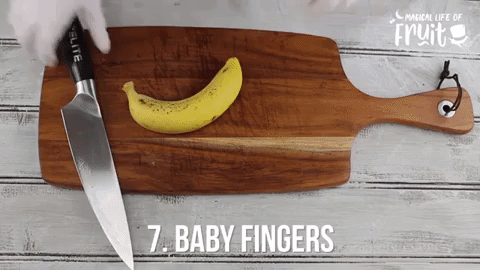 Slice the banana all the way down leaving the skin around each circle. This makes it fun for babies to push the banana out of the skin and easy for them to get a good grip on the banana.
8. Length Slice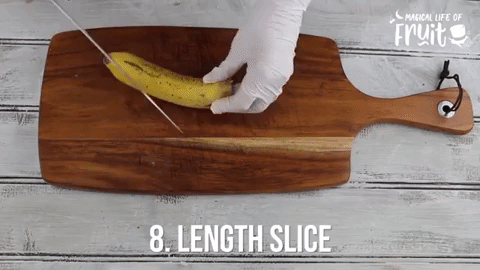 Slice the knife lengthways down the banana which slices the whole banana in half. This is a great quick way to slice a banana if you are dehydrating long strips of banana.
FREE SMOOTHIE WEIGHT LOSS BUNDLE
For A Limited Time, Grab Your FREE 260+ Page Smoothies For Weight Loss Bundle So You Can:
* Shed your excess weight without cravings
* Triple your energy levels without coffee
* Get glowing, clear skin naturally
9. Frozen Peel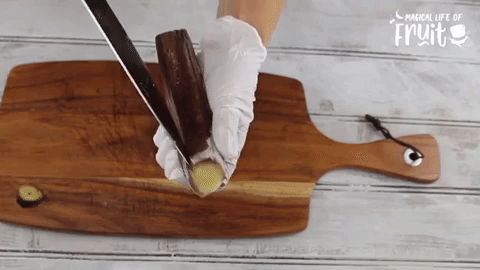 How to peel a frozen banana?  This is a bit trickier because banana peels are stuck tight on when they come straight out of the freezer. There are 3 ways to do this. But I'm just going to show you one way today.
The first way is to wait 5 minutes until your banana has thawed a little bit. Slice off the ends of the banana. Slice the banana in half lengthways and peel using your hands.
Click here for my full video tutorial on How To Freeze Bananas.  
10. 3 Section Pusher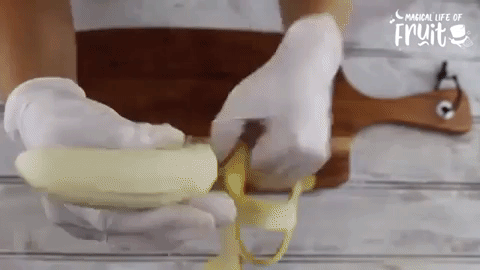 Peel a banana as normal.  Use your thumb to push downwards from the top of the banana. The banana should split into 3 natural segments. This is also perfect for making cinnamon rolls. See my recipe Cinnamon Rolls  (ONLY FRUIT, NO BAKE). 
I've also got one more really cool banana trick I'd like to show you.  I have a video showing you my MAGICAL Banana Slicer Trick.  It's pretty unbelievable.  Click here to check that out.
Do you remember all the different methods?
Here's a quick recap for you of how to peel a banana, 10 ways.
Standard
Banana Share
Monkey Magic
Twist and Peel
Gravity Peel
Chef's Chop
Baby Fingers
Length Slice
Frozen Peel
3 Section Pusher
Health Benefits of Bananas
FREE Recipe Book To Help You Lead A Magical Life Of Fruit
What do you get in the 5 Magical Fruit Recipes book?
FREE Green Smoothie Online Class
I lost 56 pounds in a few months with my
Green Smoothie Detox.
This video shows you how you can do the same. Take my 28 day challenge to
drop a whole dress size in one month
following this easy plan. Best of all, you'll barely spend any time in the kitchen, and you can even
eat on the go
if you need to. This detox only contains
natural ingredients
you can buy locally. These meals are very
simple and quick to make
, and they still taste
delicious
.
Click here to Watch my FREE video today. (No opt in required)
The 5 basic Magical Fruit recipes that you can eat for breakfast, lunch, and dinner…
Get the meals I used to help me recover from Chronic Fatigue and drop 56 pounds in just a few months…
Learn how to work with the equipment you've got, no need for expensive blenders. I'll show you how…
Click here to get your copy of the 5 Magical Fruit Recipes book.
Related Resources You Will Love
Here are all the most popular resources that will help you take things to the next level:
FREE Weight Loss Smoothie Recipe Card
Are you struggling to lose weight and keep it off?
Are you feeling run down and are struggling with ever increasing health problems?
Green Thickies new 7 Day Detox will help you drop a dress size, improve your skin, your energy will soar and you are going to be so in control and proud of yourself.
You won't go hungry on this diet ... And better yet - it actually requires minimal time in the kitchen.
Get results like this...
Hi Katherine,
I just wanted to tell you I completed the 7 day detox and I feel so great.
I have lost 6lbs, do not feel like I need more my morning coffee, the flushing of my facial skin from rosacea has dramatically reduced and I am so excited to wake up each morning and make a green thickie for breakfast!!
I am a stay at-home, homeschooling momma of 3 littles and at times so busy I would forget to feed myself!
I would go most of the day without eating and then snack on random things.
I gained 60 pounds the last 6 years during pregnancy.
I have lost 30lbs but recently plateaued and have felt so frustrated.
I've tried everything from paleo and keto to the point where I didn't know what to eat or how much and felt like even eating fruit was bad for me which thankfully it's not!
What a game changer for me. Thank you for sharing a simple but effective program.
I'm so excited to continue another week with this plan! Thankful Stephanie
Use this special voucher to get $10 off: WEBSITE (Add discount code WEBSITE at the checkout)
Click here to get started
Latest posts by Katherine Kyle
(see all)