Today I'm sharing How To Store Bananas the correct way.  Now this is some secrets that nobody tells you.  But it's really important so you don't end up wasting your bananas with them all going bad too fast at the same time.
You may not have problems with bananas if you only buy one banana at a time, but if you buy multiple bunches of bananas or even multiple boxes of bananas like I do, then you can have a big problem when it comes to storing your bananas if you don't follow these steps that I'm about to give you.
If you buy lots of bananas at once, a problem you may have is that they all ripen at exactly the same time and far too quickly leaving you with more ripe bananas than you can eat, and the result is most of them go bad, you've wasted all of your money and you have nothing healthy to eat anymore.
So here is my simple guide showing you how to store bananas properly.
Before you buy the bananas bear in mind…
---
** Please note that this post may contain affiliate links which means that I can receive a small payment if you make a purchase through my links.
---
1. Buy Bananas Of Different Stages Of Ripeness
When you are buying bananas, try and buy batches that are at different stages of ripeness, some green and some yellow, and if you're lucky, some that have brown spots so you can eat them straight away. But most stores won't sell them like this. You might find them reduced in price though.
If you see ripe bananas but can't eat them straight away you can always freeze them and make ice cream out of them. See my other post of my 10 Second Banana Ice Cream Recipe (Using ONLY BANANAS).  
It is better if you can go shopping more than once a week, but if you can't, find bananas of different color.
Decide how quickly you want your bananas to ripen…
2. Store Banana Bunches In Different Rooms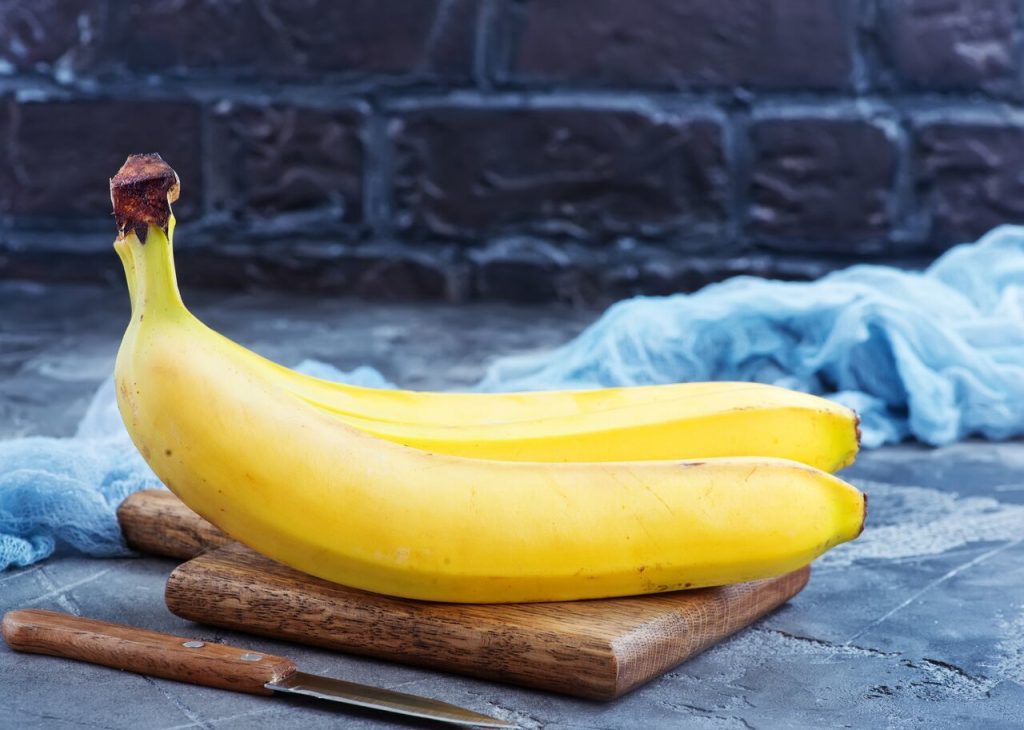 When you get home, the first thing you have to do is separate the bunches into different rooms. Some bananas should go in colder rooms and others should go in warmer rooms.
FREE SMOOTHIE WEIGHT LOSS BUNDLE
For A Limited Time, Grab Your FREE 260+ Page Smoothies For Weight Loss Bundle So You Can:
* Shed your excess weight without cravings
* Triple your energy levels without coffee
* Get glowing, clear skin naturally
This is because heat makes bananas ripen more quickly so you want your bananas to all ripen at different times. Storing them in different ways will help them to ripen at different times.
*Note bananas should be stored out of the fridge until they are ripe.
Decide where to store the rest of your fruit…
3. Decide How Quickly You Want Your Bananas To Ripen
When the bananas are in the room of your choice, the next thing to do is decide if they should be stored next to other ripe fruit or not.
If you place unripe bananas next to other fruit or other ripe bananas they will ripen much quicker. So the bananas you placed in the warmer room would probably be a good place to store other fruit. But you will have to determine the speed in which you want the other fruit to ripen too.
If you want to slow down the ripening process store your bananas like this…
4. Separate Bananas From The Bunch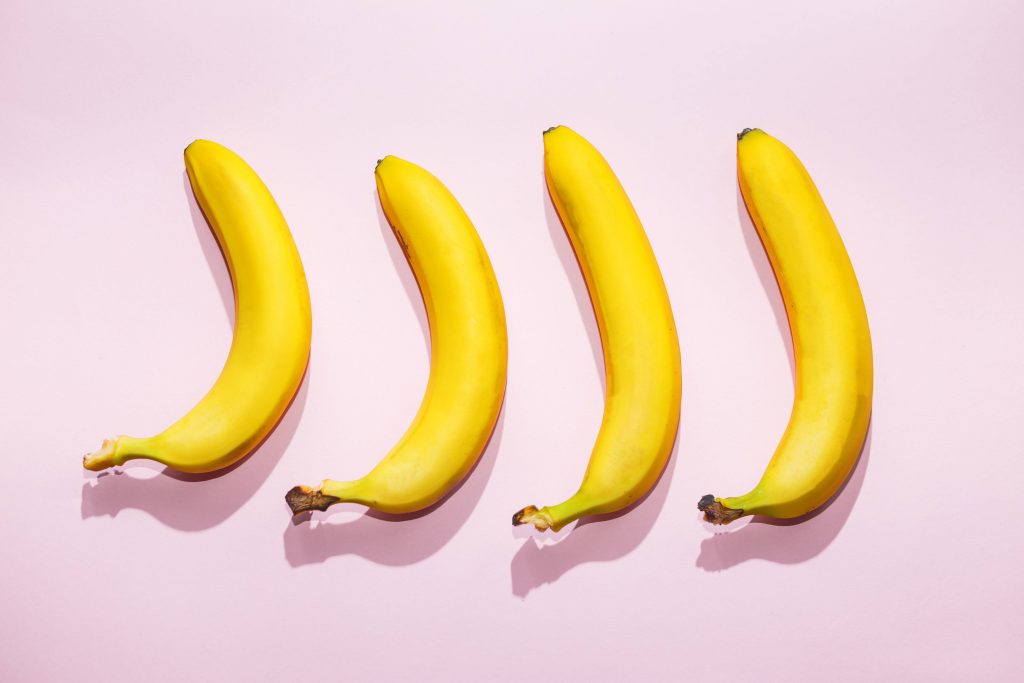 Now you've decided the banana location and the other fruit in the same location.
Next you have to separate the bananas in the coldest room from each other. So you only have single bananas, not a bunch that is joined together. This is because bananas ripen more quickly when they are joined together in a bunch.
5. Wrap The Stems In Plastic Wrap
Next you have to wrap the stems of the single bananas in the cold room with plastic wrap
. This prevents them from ripening for even longer.
FREE Green Smoothie Online Class
I lost 56 pounds in a few months with my
Green Smoothie Detox.
This video shows you how you can do the same. Take my 28 day challenge to
drop a whole dress size in one month
following this easy plan. Best of all, you'll barely spend any time in the kitchen, and you can even
eat on the go
if you need to. This detox only contains
natural ingredients
you can buy locally. These meals are very
simple and quick to make
, and they still taste
delicious
.
Click here to Watch my FREE video today. (No opt in required)
6. Store In A Preserving Box Or Bag
If you want to go the extra mile slowing down the ripening of the bananas in the cold room, you can also place the bananas in a preserving box or bag. This controls the release of the ethylene gas and stops the banana ripening too quickly.
If you want to speed up the ripening process store your bananas like this…
7. Place In A Paper Or Plastic Bag
However, if you want to speed up the ripening of the bananas in the warm room, in addition to keeping them in bunches and putting them next to other ripe fruit, you can also place them in a paper or plastic bag to speed up the ripening even more.
If you want to preserve overripe bananas store them like this…
8. Store In The Fridge

If your bananas are already too ripe, you can store your bananas in the fridge. The skins will go black but the bananas won't ripen very quickly inside.
9. Store In The Freezer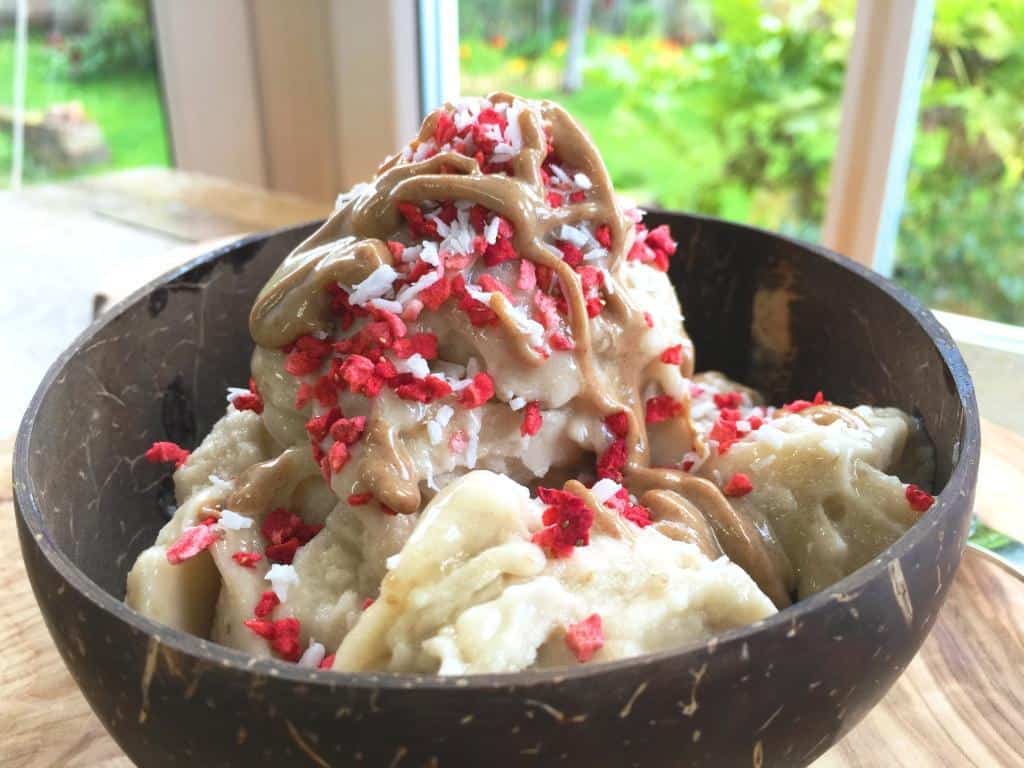 Another thing you can do with overripe bananas is to freeze them for smoothies and ice cream.  See my video for instructions on making 10 Second Banana Ice Cream Recipe (Using ONLY BANANAS).
To store bananas in the freezer, you can either break them into chunks and place on a non stick sheet. When they are frozen, transfer them to a zip lock bag.
Or you can freeze the bananas whole or even with skins on. You won't need a non stick sheet if you are freezing unpeeled bananas. Simply place them in the freezer as they are. The main thing to bear in mind is that you won't be able to peel the bananas when they are still frozen. So you'll have to leave them out of the freezer for a few hours to defrost or even run them under hot water to speed up the defrosting process.
If you've already peeled your bananas and want to keep them do this…
10. Cover In Citrus Juice
If you've already peeled your banana and still want to store it, dip it in lemon juice, or lemon water or other citrus juice which will preserve it for longer.
Get organised
11. Check The Weather Forecast
Another tip is to check the weather forecast for the next week. If you get consistent temperatures in your house, you won't have a problem but suddenly if the temperature drops from very hot to very cold, or the other way around, your bananas will ripen at a very different rate to what you are used to.
This might influence how many bananas you buy at once if you predict that they are going to ripen too fast for you to eat them. You might need to start shopping more often.
12. Plan Shopping Trips
Try to decide how many bananas you want to eat each week and plan your shopping trips accordingly so that you will always have enough ripe bananas when you want them. It takes a little time but soon you'll get used to how quickly bananas ripen in your own home.
13. Check Your Home Temperature
The perfect temperature for ripening bananas is 65–68ºF (18–20ºC) so check your house heating is at an optimal temperature. A fridge is too cold for ripening bananas.
Equipment Needed To Store Bananas
14. Don't Store In A Fruit Bowl
I don't recommend using a fruit bowl to store bananas in, unless you only buy a small amount of fruit and mainly use it for decoration.
Instead of a bowl, you can use a banana tree, also known as a banana hanger to store your bananas. This allows the air to circulate and prevents bruising as the bananas aren't touching any surface.  
Of course, when you have as many bananas as I do, it can get a little costly to buy so many of these, but perhaps one day I'll make the investment.
I don't recommend those banana hangers with a fruit bowl underneath as the metal poles in the bowl will leave big lines and bruises across your bananas. I like this lovely wooden banana hanger.
15. Save Space With A Banana Bungee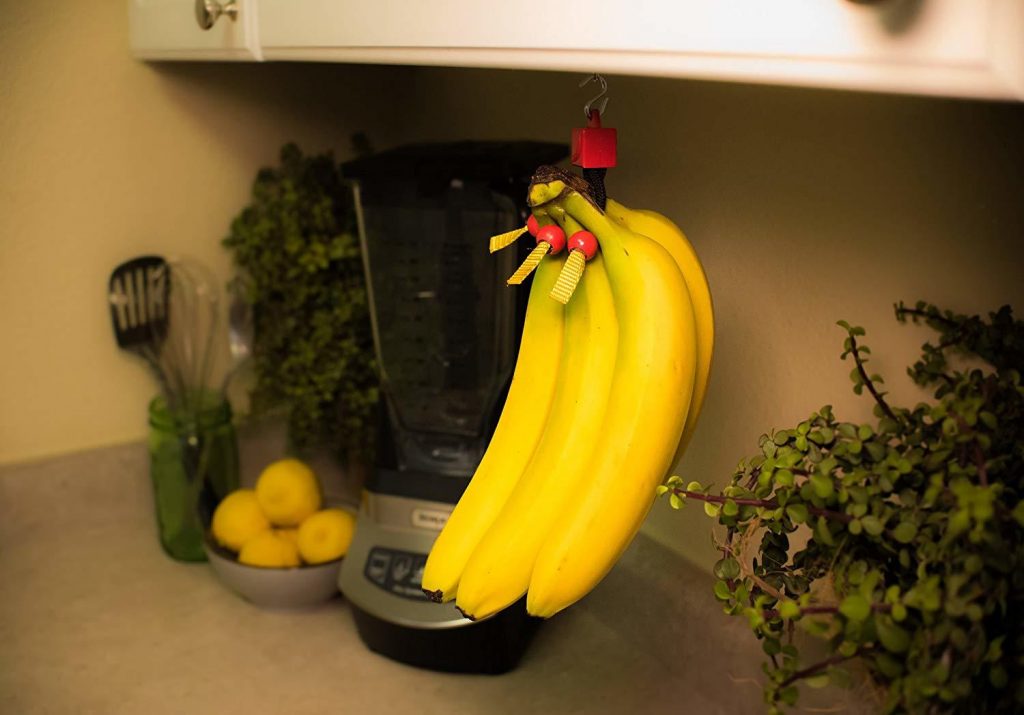 Another great invention for storing your bananas, is one of these nifty little devices called a Banana Bungee (which is a very cool name).
It is great because you can either store one bunch, many bunches or just one banana on this little hanger. It sits under your kitchen cupboards which is a great use of space.
Click here to get your banana bungee.
16. Don't Stack Bananas
Even if you don't use any equipment, whatever you do, don't stack fruit on top of each other, like in a fruit bowl. This will put too much pressure on ripe fruit, make skins burst, cause bruising and attract a million fruit flies.
Wow, that's a lot of information!
Information overload? No worries, I'm going to quickly summarise it all for you now.
Decide how many bananas you want to eat and plan your shopping trips. Check the weather forecast.
At home, decide how many bananas you want to ripen more quickly and how many more slowly.  Check the temperature of different rooms in your house.
Move the bananas into different rooms. (Hot for fast ripening and cold for slow ripening)
For the bananas you want to ripen quickly, store in a warm room in bunches, next to other fruit or even in a paper bag
For the bananas you want to ripen slowly, store in a cold room in single layers with stems covered by plastic wrap and even in a preserving bag
When the bananas are ripe, transfer them to the fridge or freezer
If the bananas are peeled, preserve in citrus juice and store in the fridge
Look into gadgets that can keep your bananas from bruising and save space
I hope you enjoyed this post about How To Store Bananas – the secret methods that nobody tells you.
If you liked this post you'll probably like some of my other posts such as How To Ripen Bananas (FAST & EASY) Try It Today or How To Keep Bananas From Turning Brown (10 GENIUS HACKS).  
25 Powerful Reasons To Eat Bananas
FREE Recipe Book To Help You Lead A Magical Life Of Fruit
What do you get in the 5 Magical Fruit Recipes book?
The 5 basic Magical Fruit recipes that you can eat for breakfast, lunch, and dinner…
Get the meals I used to help me recover from Chronic Fatigue and drop 56 pounds in just a few months…
Learn how to work with the equipment you've got, no need for expensive blenders. I'll show you how…
Click here to get your copy of the 5 Magical Fruit Recipes book.
Related Resources You Will Love
Here are all the most popular resources that will help you take things to the next level:
FREE Weight Loss Smoothie Recipe Card
Are you struggling to lose weight and keep it off?
Are you feeling run down and are struggling with ever increasing health problems?
Green Thickies new 7 Day Detox will help you drop a dress size, improve your skin, your energy will soar and you are going to be so in control and proud of yourself.
You won't go hungry on this diet ... And better yet - it actually requires minimal time in the kitchen.
Get results like this...
Hi Katherine,
I just wanted to tell you I completed the 7 day detox and I feel so great.
I have lost 6lbs, do not feel like I need more my morning coffee, the flushing of my facial skin from rosacea has dramatically reduced and I am so excited to wake up each morning and make a green thickie for breakfast!!
I am a stay at-home, homeschooling momma of 3 littles and at times so busy I would forget to feed myself!
I would go most of the day without eating and then snack on random things.
I gained 60 pounds the last 6 years during pregnancy.
I have lost 30lbs but recently plateaued and have felt so frustrated.
I've tried everything from paleo and keto to the point where I didn't know what to eat or how much and felt like even eating fruit was bad for me which thankfully it's not!
What a game changer for me. Thank you for sharing a simple but effective program.
I'm so excited to continue another week with this plan! Thankful Stephanie
Use this special voucher to get $10 off: WEBSITE (Add discount code WEBSITE at the checkout)
Click here to get started
Latest posts by Katherine Kyle
(see all)