If you liked this post, please share it, thank you.
 Lime and Ginger Drink: Green Thickie
This Asian inspired lime and ginger drink will revive your energy levels and your taste buds.  It is a very refreshing complete meal drink that has a very unique flavour.  If you love ginger, you'll definitely enjoy this green thickie.
Even if you find the taste of ginger overpowering, it's health benefits are well worth including in your regular diet.  Studies have found that ginger can help treat ovarian cancer, and prevent colon cancer.  Ginger is widely used as an effective morning sickness remedy.  In fact when I was pregnant I drank lemon and ginger tea every morning and didn't have any morning sickness.  Ginger has also been shown to relieve inflammation, migraines, menstrual pains and improve your immune system.  A power house of benefits from this ginger drink.
Gluten free*, raw*, vegetarian, vegan, dairy free, egg free, sugar free, wheat free*, soya free*, salt free, nut free*
Author:
Katherine Natalia
Delightful Asian flavours with tangy ginger, refreshing lime and sweet coconut.
Ingredients
1 Cup Water
1 Cup Oat Milk (or any other dairy free milk e.g. rice, soya, almond, hemp coconut drink or raw nut or seed milk)
1 Teaspoon Ginger
Juice from 1 lime
1 Cup Oats (use raw oat groats if following a raw food diet)
2 Tablespoons Linseeds
1 Cup Mango
2 Tablespoons desiccated coconut (or fresh if you can find it)
1 Cup Spinach
Instructions
Blend the ingredients in the order listed.
Blend the ingredients a few at a time so that your blender can cope with the work, unless you've got a high powered blender, then you might be able to add them all in at once.
If it gets too thick, add more water as necessary.
If your blender has made the smoothie too warm, you can either cool it down in the fridge or freezer, or add some ice cubes to it.
Notes
Makes 2 large servings. (approximately 16 oz, 500 ml or 1 pint. The quantity produced varies slightly from recipe to recipe depending on the consistency of the ingredients used and may be a different colour to the photo. Half of this recipe should serve one person for breakfast and keep you going until lunch. (or any other meal) You can always save the other smoothie for your next meal or the next day, or share it and give someone else an energy boost. * Allergens If you want to ensure this recipe is gluten free or wheat free, either use gluten free oats or substitute the oats for another healthy gluten free grain such as brown rice or quinoa. If you want to ensure this recipe is raw, ensure all your ingredients are raw. Include raw oat groats or raw buckwheat. Include raw nut or seed milk or water instead of the oat milk. All the Green Thickie recipes on this website are suitable for vegetarians and vegans and are dairy free. They do not include any animal products at all. If you are avoiding soya, use a soya free milk. Feel free to add a healthy sweetener that fits in with your diet or avoid extra sweeteners altogether. Feel free to substitute sweeteners with whole fruits such as date to increase the sweetness. All the recipes are sugar free. No green thickie recipes contain salt. All recipes are suitable for babies as they contain no salt or sugar. Substitute seeds for nuts to make these recipes nut free if you are avoiding potential allergens.
Nutrition Information
Serving size:
16 oz
Calories:
339
Fat:
12.5g
Saturated fat:
5.1g
Unsaturated fat:
7.4g
Carbohydrates:
48.6g
Sugar:
13.3g
Fiber:
9.7g
Protein:
12g
Cholesterol:
0g
Have a look at this great Green Thickie given to teenagers to help them perform better at school.  Green Thickies definitely help you think more clearly and keep you focused and energised at work.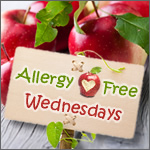 This post has been shared with these Fabulous blog hops.
Green Thickies also co-hosts a blog hop,
Healthy Vegan Fridays
so join us on Friday to find fabulous health related articles and healthy recipes..
The best type of blender to make Green Thickies is a
Vitamix
and you will get beautifully smooth Green Thickies, but you can use whatever type of blender you have or can afford. This
blender
is reasonably priced and will easily make green thickies along with lots of other delicious food.
Comments always put a smile on my face, so please take a minute to say hello below. Many thanks.
If you have enjoyed this post please pin it to Pinterest, Tweet it or share it on facebook (below) so others can enjoy it. Many thanks.